Tanaka Reina
田中れいな



Also known as

Tanakacchi (田中っち), 07 (Rei-Na), Reina (れいな), Reinya (れいにゃ)

Born

November 11, 1989 (age 28)

Origin

Fukuoka, Japan

Genre

Japanese Pop

Occupation

Singer

Years active

2003-present

Label

Zetima

Associated Acts

Morning Musume, Aa!, Morning Musume Otome Gumi, Elegies, High-King, H.P. All Stars, Mobekimasu

Website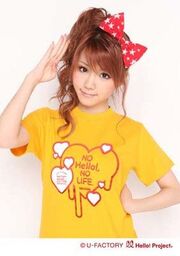 Tanaka Reina (田中れいな, real name 田中​麗奈, born November 11, 1989 in Fukuoka Prefecture, Japan) is one of the sixth generation of the J-pop group Morning Musume. Her professional first name is spelled in hiragana to differ her from the Japanese actress Tanaka Rena whose name is the same in kanji because their first names can be pronounced both as "Reina" and "Rena" and who is similarly from Fukuoka Prefecture.
Biography
Edit
Tanaka auditioned for a spot in Morning Musume 5th Generation in 2001 and passed but had to leave the training camp when it was found out that she was underage. She attempted again in 2002 -- now old enough to audition -- for a position in the 6th Generation and passed along with other members Kamei Eri and Michishige Sayumi. Her audition song was Morning Musume's "Do it! Now". Once the 6th Generation joined, it made it the group's biggest formation yet, with 15 members in total.
In 2003, Tanaka was chosen to become the leader of a new Hello! Project unit alongside Hello! Project Kids members Suzuki Airi and Natsuyaki Miyabi. The unit was named Aa! and the group released their first and last single in October of the same year. The group later disbanded due to protests about the girls being too young to understand what they were singing about. However, Aa! still occasionally reunites to perform live.
She then provided the main vocals for the group's nineteenth single Shabondama, making her one of the few members of Morning Musume who was able to lead on her debut single. She was featured in two solo versions of Memory Seishun no Hikari on a fan club release CD. She released her first album with Morning Musume, Ai no Dai 6 Kan in December 2004.
During her first year in the group, Morning Musume was split into two groups: Morning Musume Otome Gumi and Morning Musume Sakura Gumi. Tanaka was put in Otome Gumi and released two singles with the group before they went on hiatus. 6th Generation members Fujimoto Miki and Michishige Sayumi also joined Otome Gumi, while Kamei Eri joined Sakura Gumi.
Tanaka was also one of the few members to be selected for the 2005 summer shuffle groups. She, along with fellow Morning Musume member Takahashi Ai, was a part of Elegies. They contributed the song Inshouha no Renoir You ni to the summer shuffle CD that year.
On March 28, 2008, it was announced that Tanaka would be voice acting as Kirara, a main character in Sanrio's anime Onegai My Melody Kirara, the fourth My Melody series. The show premiered on April 6, 2008.
In 2008, Tanaka became a member and a leader of Hello Project's new unit High-King, formed to promote their new musical; Cinderella the Muscial. The group released one single, C\C (Cinderella/Complex), and haven't released anything since.
In 2010, it was revealed that Tanaka would be voicing the main/title character of the new anime series, Kaito Reinya. The character, Reinya, had initially been modeled on Tanaka. The show started airing on Januaury 9th, 2010 and is set to have a total of 12 episodes.
In 2010, Tanaka opened her first blog with the title Tanaka Reina no Otsukareina.
Tanaka starred in a stage play titled Reborn ~Inochi no Audition~ along with Niigaki Risa, the 9th Generation members, and Kudo Haruka.
Tanaka and 6th generation member Michishige Sayumi hosted a premium Christmas dinner show. The date was 12/23 and it was hosted at the Prince Hotels.
On April 18, it was announced that Tanaka and Morning Musume's 9th & 10th Generation members will star in a new stage play titled Stacey's Shoujo Saisatsu Kageki. The musical will run from June 6-12.
It was announced Tanaka will be the center in a new Hello! Project group with new vocalists and a guitarists. The audition for the new vocalists and a guitarists will start on June 17 and continue for 4 weekends consecutively.
In 2012, Tanaka cut her hair short
On November 18, the winners of Tanaka's band member audition were revealed to be Uozumi Yuki, Miyazawa Marin and Okada Marina. On the same day, it was announced that Tanaka Reina would be graduating from Morning Musume and Hello! Project. On the same day, Tsunku and Tanaka made an announcement of her graduation in order to focus on her new band and to present new opportunities for Tanaka.
Tanaka graduated from Morning Musume at the end of their 2013 Spring Concert Tour, where she will conclude her activities in both Morning Musume and Hello! Project.
Birth Name: Tanaka Reina (田中麗奈)
Stage Name: Tanaka Reina (田中れいな)
Nicknames: Tanakacchi (田中っち), 07 (Rei-Na), Reina (れいな), Reinya (れいにゃ)
Birth Date: November 11, 1989 (age 28)
Birthplace: Fukuoka, Japan
Blood type O
Height: 152.5 cm
Hello! Project Status:

2003-01-19: Member
2003-01-19: Morning Musume Member
2013-05-21: Graduated from Morning Musume and Hello! Project

Up-Front Agency Status:
Years in Morning Musume: 10 Years
Morning Musume Color: Light Blue
Hobbies: Observing people, texting, recording TV shows
Speciality: Can play without sleep
Motto: Treat others how you want to be treated!
Favorite words: aa ne!! (あ~ね!!; Ah, hey!!), ee!? (え~!?;whaat!?), OtsukaReina (おつかれいな; good work)
Favorite food: Yakiniku, broccoli, nankotsu, enoki, chocolate
Disliked food: Green bell peppers, natto
Favorite colors: Yellow, red, pink, black, white
Favorite flowers: Sunflowers
Favorite seasons: Spring, autumn
Favorite singer: Goto Maki
Favorite animal: Cat
Favorite Morning Musume songs: Shabondama, SEXY BOY ~Soyokaze ni Yorisotte~, Ambitious! Yashinteki de Ii jan, I WISH, Koi no Dance Site
Singles Participated In
Edit
Morning Musume
Edit
The kanji characters for her name (田中麗奈) are the same as the ones for the Japanese actress Tanaka Rena. To avoid confusion, Tanaka adopted hiragana symbols (れいな) for her first name when she joined Morning Musume.
She shares a close relationship with Junjun.
Has a younger brother who according to her blog, has now outgrown her.
She initially auditioned for Morning Musume during the Love Audition 21 auditions for the fifth generation members and was even featured on the MUSIX page.
Tsunku has said that Tanaka is the closest to being a perfect Morning Musume member.
Tanaka has always had the reputation of a yankii (a rebel) since her first audition for Morning Musume when she had blonde hair. The fact that she also wore shirts with skulls and dragons, and had a tendency to wear a lot of purple clothing, also furthered this yankii image with fans.
She is known as one of the most fashionable member of Morning Musume.
Around the time of her debut, purikura photos surfaced that showed her devotion to the boy group FLAME. Rumors went around that she had only joined Morning Musume so that she could become famous and get recognized by FLAME member Izaki Hisato, her crush (based on something that Tanaka herself wrote and made it on the web).
Niigaki Risa is the one who chiefly calls her "Tanakacchi."
When asked what part of her makeup she is most particular about she said it was her eyelashes.
Iida Kaori was the first to use "07" to refer to Tanaka (in an episode of Hello! Morning where she wrote her "07" on a flip card to identify Tanaka in a guessing game). Since then, "07" had been printed on her sleeves in some concerts, and other members such as Yoshizawa Hitomi and Fujimoto Miki have used "07" when writing.
In a 2004 interview, she said that her rival was Goto Maki, but she explained further that she just wants to become like her.
She, along with former T&C Bomber member Kominato Miwa and the Morning Musume member Ikuta Erina, are the only three Hello! Project members to come from Kyushu.
When she was younger, she performed Minimoni's "Minimoni. Jankenpyon!" with a group of friends in a school talent show.
She stated that "Shabondama" is the song that gives her energy in concerts and "NATURE IS GOOD!" is the most suitable song for herself.
There is a music video of Kamei Eri, Michishige Sayumi, and Tanaka performing their audition song, Do it! Now.
In Yorosen!, she taught other Morning Musume members about Prime Ministers.
She said that if she could become Hello! Project member, she would be Kumai Yurina because she would like to "watch everyone from a higher line of sight".
She dropped out of high school to pursue her career.
She worked most with Hello! Project Kids.
It was admitted that she and the 6th generation members were problem children.
Tanaka wears a garter in most concerts and music videos.
She and Michishige Sayumi are the only remaining current Morning Musume Members who joined when a First Generation member was still in the group, and the only current Morning Musume Members who are over 20 years old (The legal adult age in Japan).
After Mitsui Aika's graduation, Tanaka became the only member of Morning Musume to have an Ameba Blog, as well as the only member of Morning Musume with dyed hair.
Is the first member of Morning Musume who auditioned twice to get in, the second being Kudo Haruka.